Swan Lodge is a cute, cosy and comfortable 2 bedroom cabin. Swan has 2 solid pine Kingsize beds with very thick and comfy protected mattresses dressed in perfectly clean, fresh bed linen.
The kitchen/diner/living room is all open plan with a dining table with high back leatherette chairs.
Restored and rustic furniture is at the heart of our cabins giving you a homely, cosy feel. The sofa has recliners, as does the armchair, so put your feet up and relax watching what you like on the 50 inch TV, boasting free Netflix and WiFi, don't forget your favourite drink and snacks!
The view out over the lake is spectacular from the armchair inside and veranda outside which overlaps the beautiful, calming lake as per all of our cabins. Swan cabin is situated 3rd from the left after Dragonfly and Butterfly lodge, but just before Kingfisher lodge which is on your right.
Good spot for fishing day or night, or simply relaxing and soaking up the peaceful atmosphere.
Ideal for 2 couples or a romantic couple. Fishing or simply rekindling!

Tea / Coffee / Condiments
FREE FISHING
Fishing Experience
Enjoy catch after catch from our well-stocked 3-acre fishing lake! We have a mixture of Carp, Barbel, Bream, Tench, Rudd and Roach.
Fish from swims around the lake or purely from your veranda. Fishing is exclusive only to cabin guests, giving you space, peace & quiet.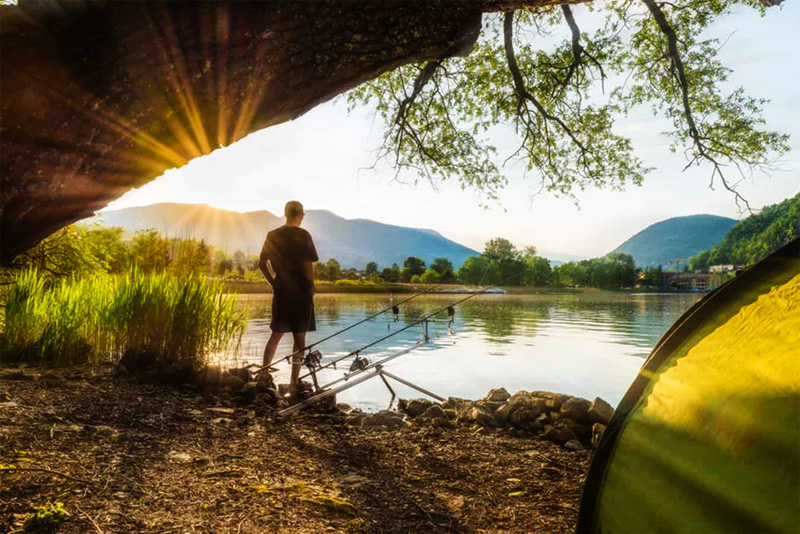 NOW AVAILABLE
Discover More Cabins