CABIN OVERVIEW
Kingfisher
Kingfisher Lodge is situated furthest to the right of the other 3 cabins. Sleeps 3 couples. It boasts 3 lovely bedrooms containing 1 double bed and 2 kingsize beds dressed with beautiful freshly laundered bedding.
Home from home, rustic vibe. Feels like visiting a peaceful safe haven. Every guest that has stayed, always return. All of your troubles disappear are the comments we hear. Maybe because of the peaceful ambience of the cabins integrating into the stunning calming beauty of the lake and the soothing nature sounds.
Kingfisher Lodge has a very comfortable sofa and 2 armchairs, coffee table and dining table and chairs.
The kitchen is equipped with everything.
Don't forget to bring your slippers and a book or two, or your fishing equipment, or even your camera to get that perfect shot for your album.

KINGFISHER
Cabin Amenities
Free WiFi

Free Netflix

Free Fishing

50" Flat Screen TV
Tea / Coffee / Condiments
FREE FISHING
Fishing Experience
Enjoy catch after catch from our well-stocked 3-acre fishing lake! We have a mixture of Carp, Barbel, Bream, Tench, Rudd and Roach.
Fish from swims around the lake or purely from your veranda. Fishing is exclusive only to cabin guests, giving you space, peace & quiet.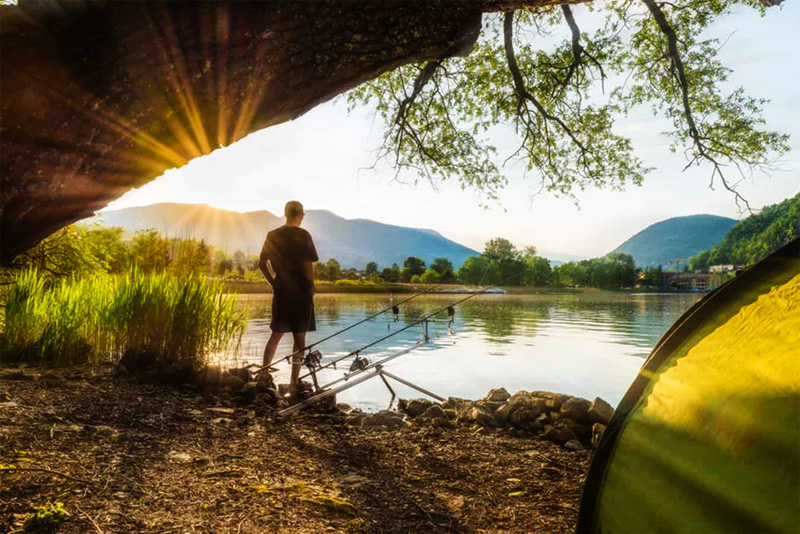 NOW AVAILABLE
Discover More Cabins